Description
(Old Man's Bones Sedum)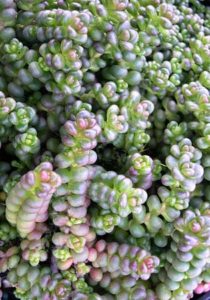 The tiny leaves almost look like multi colored glass beads.  Very popular in rock gardens.  The shiny rounded succulent leaves turn pink to red in the sun and intensify in color when weather cools in the fall.
Try it as a low ground-cover and in combination containers as a low level filler.  Very drought tolerant..
Yellow flowers

Choice rock garden, ground cover, or roof garden selection.
Requires excellent drainage.
Height:  3  Inches
Spread:   4-12  Inches
Zones 4-9
70 Count Plug Flat (SORRY, NOT AVAILABLE THIS YEAR)