Description
Sedum makinoi 'Limelight'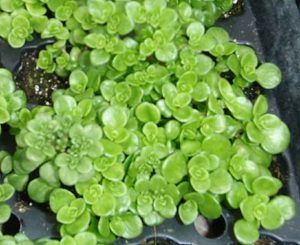 This low-growing creeper from Japan features stunning, bright lime-green leaves. Yellow flowers appear in summer. Adds lovely contrast to the rockery garden or container plantings. Excellent for areas where other plants may be difficult to grow.
Blooms: Summer
June – July
Growth Rate: Fast
Size Range: < 4″ tall x 12″-24″ wide
Exposure: Full sun to partial shade
Soil: Average, Tolerates Poor, Well-drained, Tolerates Dry, Tolerates Sandy
Water Use: Drought Tolerant. Follow a regular watering schedule the first growing season to establish a strong root system.
Maintenance: Low
USDA Zone 6-11, -10 to 0F
(-23 to -17C)
Exposure:  Sun or partial sun
Water Needs:  Dry to Normal
Requires excellent drainage.
70 Count Plug Flat