Description
Sedum selskianum 'Spirit'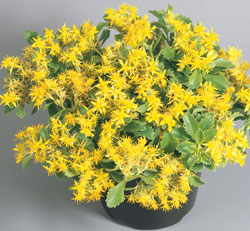 One of our top-selling Sedum groundcovers!
Good as a ground cover, in hanging baskets, and right at home in the rock garden.  Flowers late spring and summer. Full sun, but some shade is tolerated.  Not for wet, soggy locations.  Withstands drought well.  Can go for long periods without water.  A fast grower with  green succulent  foliage.
Suitable for hardiness zones 3-9, this versatile perennial blooms throughout the summer and fall. For months, it is literally covered with precious, star-shaped yellow blooms. Like all sedums, 'Spirit' is tolerant of drought and heat. It has attractive, glossy green foliage. Only four inches in height, Spirit is suitable for rock gardens.  Stays 4″ or less in height.  Also great as a house plant.
  Hardy zones 3-9