Description
SEDUM spurium 'Tri Color'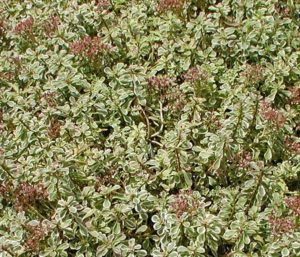 One of our top-selling Sedum groundcovers!
Tough perennial used in rock gardens, green roof programs, as a ground cover, in planters, and as a house plant.
Hardy Zones 3-10.
Excellent choice for hot, dry places.  Not for foot traffic, though.
Blooms with golden yellow flowers May through fall..  Creeping, spreading sedum, never over 6″ tall.  Dies back in the winter and sprouts right back in the spring.  One of the first perennials to send up new growth in the spring.  Pest and disease free.  Carefree, too!
After the flowers fade, the seed pods turn red and remain attractive. Easy to grow with good drainage.
Green leaves with cream and red to pink variegated colorations, turning a deep scarlet-pink in cool weather.  Very attractive.