Description
Sedum Album 'murale'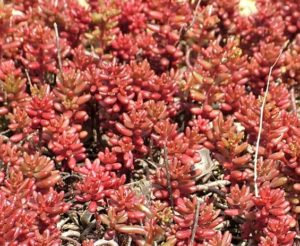 A variety of Sedum Album that takes on a deep reddish purple tone when exposed to extreme heat or cold.  Otherwise, a bright green.
Very drought tolerant.  Reddish color may not develop in summer if shaded.
Excellent ground cover for use in rock gardens, along walkways, or along sunny borders!  Nice in the rock garden, spilling out of planters, and in hanging baskets.  Also makes a fine house plant for the sunny windowsill.
A densely clustered succulent.  Low water requirement.
Foliage is green turning a reddish purple when stressed by heat or cold. Stays green/red in the winter.
Exposure Full sun to light shade
Soil: Well drained, gravely or sandy soil
Height: 2″
Spread 8-12″
Zones 4-9   Will remain evergreen in zones 6 and above