Description
SEDUM spurium 'Summer Glory'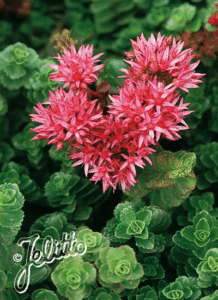 One of our top-selling Sedum groundcovers!
Developed by Jelitto seeds, this hardy, tough Sedum will please you!  Great as a groundcover is poor soils, it tolerates drought and heat very well.
But, it has many other uses too.  Use it in greenroof projects, in rock gardens, as a low border edging, spilling out of containers or over rock walls.  Naturally blooms July-September with dark pink starry flowers.  Evergreen in zones 7 and above.  Tolerates light foot traffic.  Best in full sun, but will tolerate light shade.  Not for wet, soggy locations.  This sedum thrives best in well drained soils.  Not fussy about ph levels.  Highly deer and rabbit resistant.  This variety forms a low carpet of small, rounded green leaves, spreading to form a thick patch that will choke out weeds, making it an outstanding groundcover.
Winter Hardiness Zones: 5-9
Height with Flower:  6″
Spacing between Plants:  10″ for groundcover plantings
Soil Requirement: Well drained soils, pH 5.8 – 6.8
Location: Full Sun, but will tolerate some light shade.