Description
Sedum Spurium Coccineum Royal Pink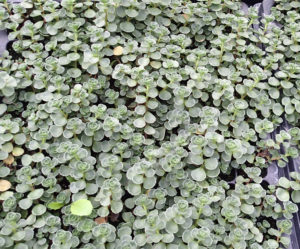 One of our top-selling Sedum groundcovers!
Very popular in both green-roof projects and hard-to-cover hot, dry locations. Versatile sedum species for groundcover (evergreen in milder climates). Mat-forming foliage with very narrow paddle-shaped leaves that spiral around and form dense mats. The foliage may turn a deep-red color in the autumn in full sun. Rugged and drought tolerant. Requires well drained soil and will not do well in wet places. Excellent for hot, dry areas with poor soil fertility. Not for areas with foot traffic.
Excellent for green roof projects as well as perennial borders, rock gardens, containers, and more. Plants forms a thick ground cover, even the first year, to out-compete weeds. Deer resistant, too.
USDA Zones: 5 – 9
Height: 4 – 6 inches
Width: 12 – 15
Bloom Season: Summer and fall
Bloom Color: Bright pink
Environment: Full sun